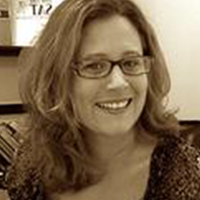 Kathryn L. Bregman Ed.S.
DIRECTOR DELRAY BEACH
Kathryn is a passionate, engaging teacher with over 15 years of experience in her field. She prides herself on her ability to help students recognize their own potential and exceed the expectations they set for themselves.  Kathryn firmly believes that anything one teaches, one ought to be a master of; therefore, she is as thorough and meticulous as she is spontaneous and funny. Her students always learn and have fun doing it.  As a doctoral fellow at the University of Florida, Kathryn was a finalist for the Undergraduate Teacher of the Year Award, and when she worked at Dreyfoos School of the Arts, she was also a finalist for Palm Beach County Social Studies Teacher of the Year.  Kathryn taught at Dreyfoos School of the Arts from 2005 – 2010. Then, she wrote course curriculums and taught future teachers while working as a Graduate Fellow at UF from 2010 -2014.  When Kathryn returned home, she eagerly took up her post as Director of Worth Learning Center in Delray Beach and the Director of Social Sciences in our North Palm Beach office. Kathryn teaches SAT and ACT English, reading, and writing, she guides students through the IB essay process, and she tutors each of the AP social studies courses: United States History, World History, Human Geography, United States Government.